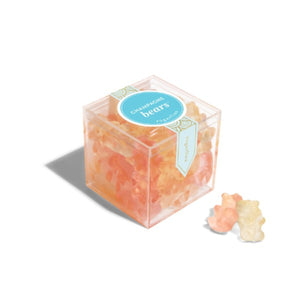 Champagne Bears: Made with Dom Pérignon Vintage Champagne, these sophisticated bears sparkle in flavors of classic Brut and fashionable Rosé. Named "the perfect party favor" by Cosmopolitan magazine, these grown-up gummies are the finest bears in all of candy land. Imported from Germany. 

Note:  items may contain traces of milk, soy, wheat, peanuts and tree nuts.
All items are non-alchoholic and imported from Germany.