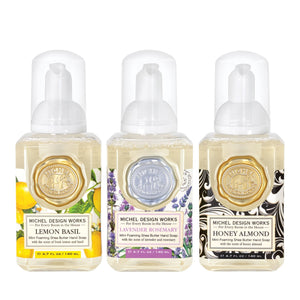 This mini foaming hand soap set is the perfect way to try several of our fragrances! The set features our popular Lavender Rosemary, Lemon Basil, and Honey Almond scents, and contains shea butter and aloe vera for gentle cleansing and moisturizing.
Lemon Basil: Citrus notes of lemon and mandarin enhanced with green basil leaf.
Lavender Rosemary: The unmistakable scent of lavender with rosemary and a hint of eucalyptus.
Honey Almond: Sweet almond muddled with cherry, vanilla, and honey.
Volume: 4.7 fl. oz. / 140 ml each